Welcome to Inkpact! We want to empower businesses to communicate with thoughtful handwritten notes via our easy to use platform.
Sign up and create an account for free and then follow the 4 steps below on the platform.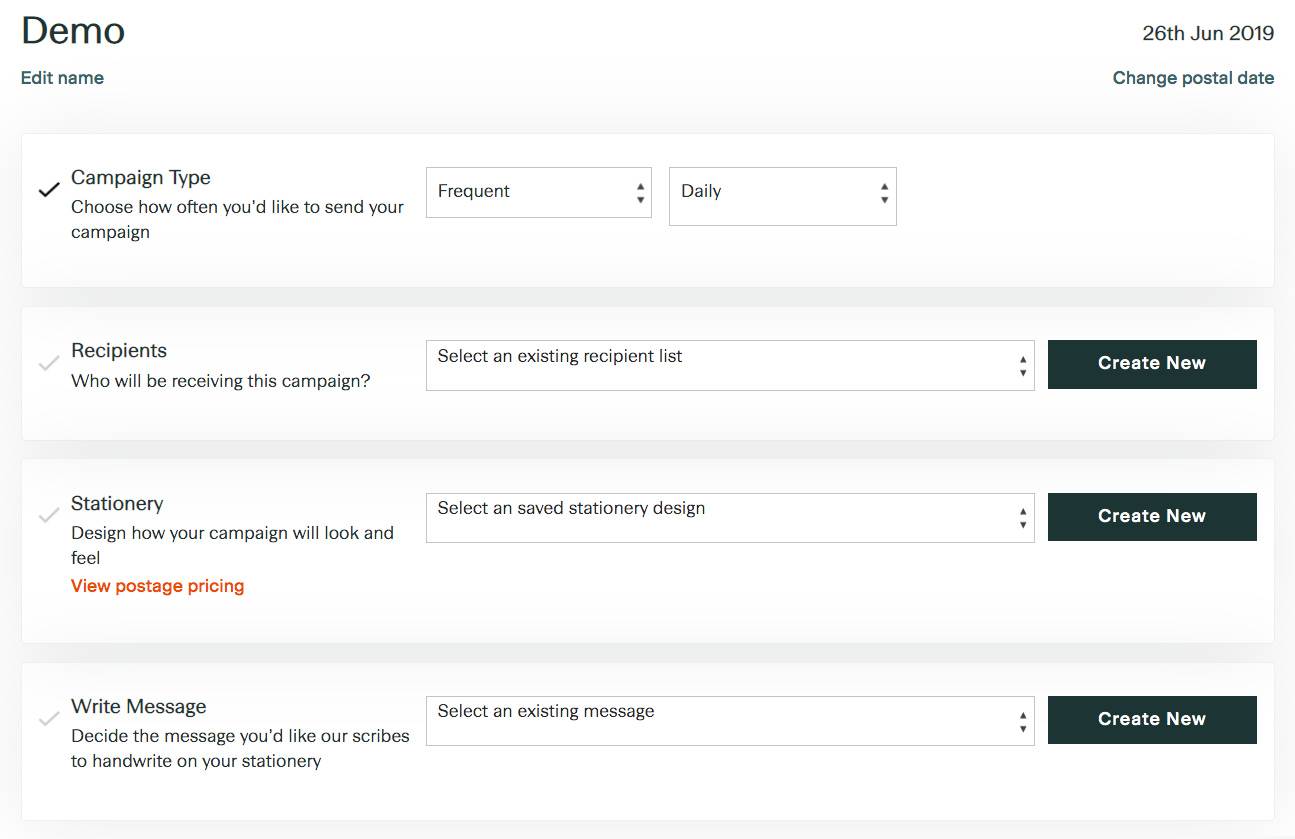 CREATE CAMPAIGN
First up, name your campaign + select a post date.
Please note it takes 7 working days to turnaround a campaign and pop your handwritten letters in the post. They'll be sent first class, so please allow 1-3 working days for Royal Mail to deliver them to your recipients on top of our seven-working-day window. Turnaround time can be reduced to 3 working days for Frequent Campaigns.
Let us know whether you have any international recipients or all UK based.

SENDING FREQUENCY
There are two sending models available to choose from...
Single campaigns
Pay as you go per campaign, no strings attached.
Great for infrequent or one-off occasions.
Starting at £100 for a minimum of 20 notes with one drop date.
Economies of scale discounts are available for 100+ messages.
Turnaround time is 7 working days or schedule in advance if you're really organised.
Frequent campaigns
Pay a monthly subscription based on the expected number of notes you wish to send each month.
Scale what you're sending to meet demand from as little as 1 at a time.
Any unused notes roll over into the next month and accumulate in your account for 1 year.
Starting at £100 per month for 20 continuous daily, weekly, or monthly mailings.
Turnaround time is reduced from 7 working days to just 72 hours or schedule in advance.
ADD CONTACTS
Simply copy and paste data into the relevant columns. Important note: mandatory fields are columns first name, last name and address (if all your address data is in one column you can paste all into Address line 1). To reach impressive levels of personalisation; add additional data to be pulled into the message copy later on into columns Attribute A + B (eg. Promo codes, specific names of items bought by customer, dates etc.)

Alternatively download our Golden Template (also known as a spreadsheet) from within the platform, paste your recipient data and re-upload.
For 'Frequent Campaigns' you can leverage the power of automation to save you time by integrating with your favourite apps, or get access to our API documentation to plug into your CRM system. Click here for more info.
DESIGN STATIONERY
Choose from 3 stationery sizes:
A6 (great for a postcard size message)
A5 (great for a notebook size message)
A4 (great for anything that requires a lot of detail)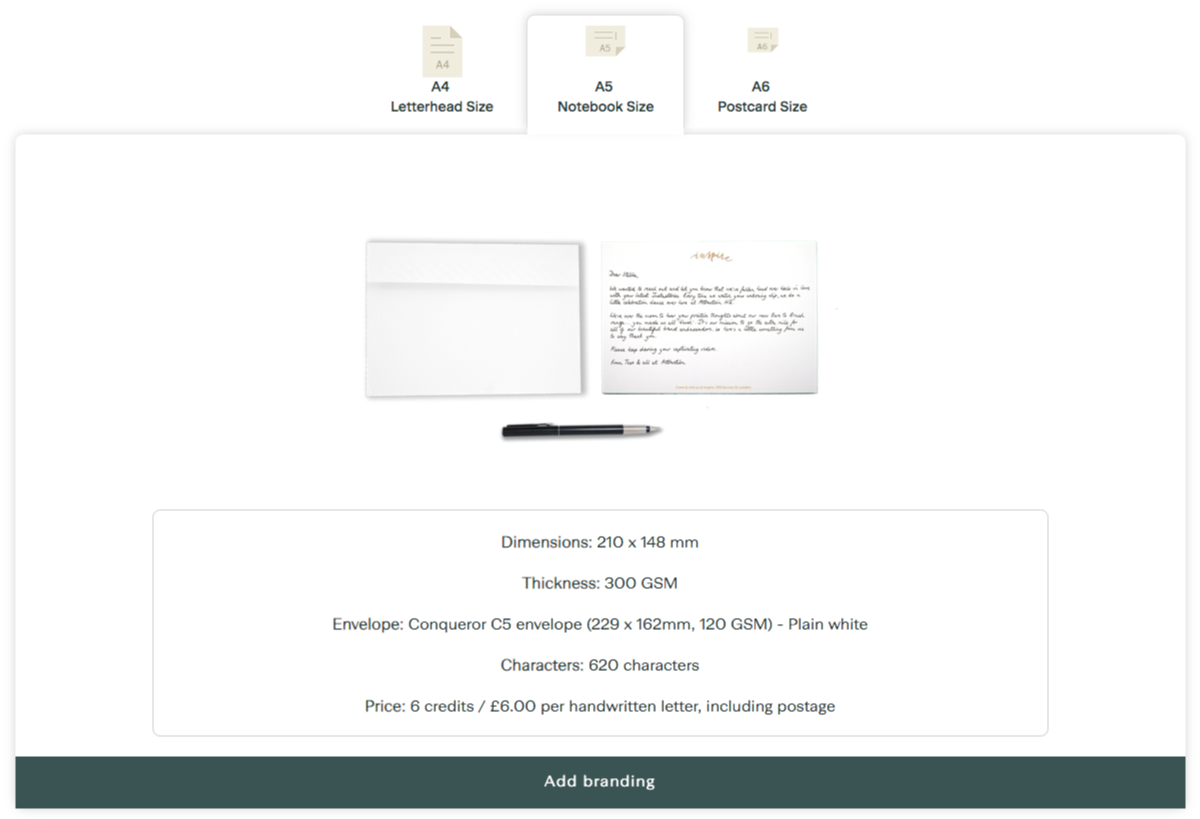 Make your stationery your own by adding your branding. Your customers will recognise the company behind the thoughtfulness the moment they open the envelope.
Choose from 2 design options...
Option 1
A logo header and type text in the footer in the font and colour you wish. Some use the footer for contact information or a tagline, others like to get creative and use this as a time to set a call-to-action. Your message will be handwritten in the middle.
Option 2
The alternative stationery design option is to have your logo or image on one side (covering as much of the space as you wish) and your message handwritten on the other side. If neither of these options suit you, please get in touch with our team about bespoke campaigns at hello@inkpact.com or dropping us a message on live chat.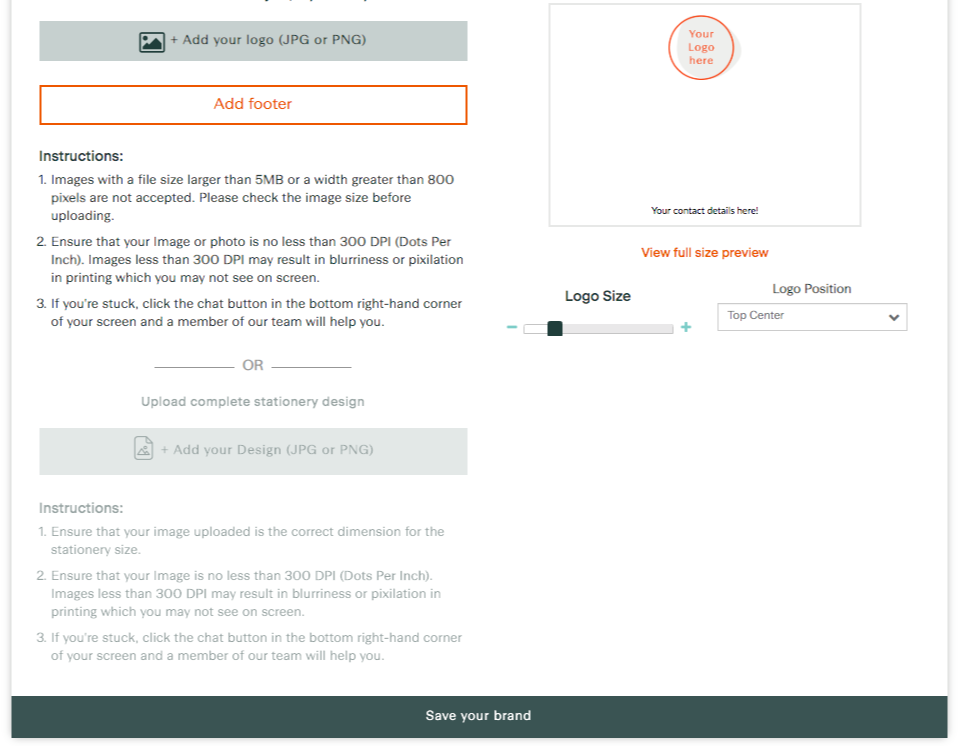 WAX SEALS
If you would like to sprinkle an extra special touch, add a wax seal to your envelopes. You can either choose the Inkpact logo or we can make you your own customised stamp. Depending on the volume it takes roughly 2 extra days for Inkpact wax seals and roughly 5 extra days for bespoke wax seals. A member of the Inkpact team will be in touch to let you know based on your order volume.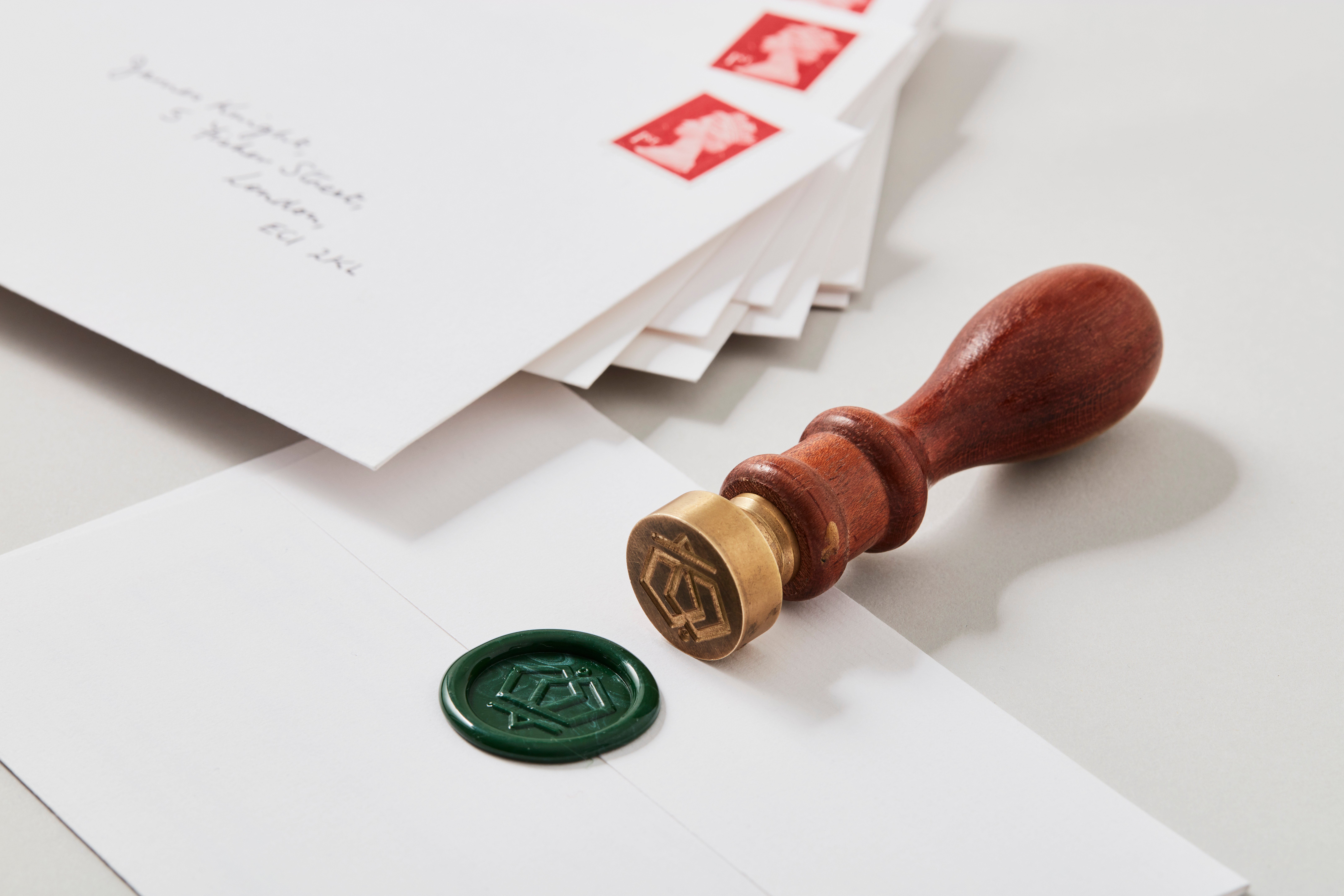 TYPE MESSAGE COPY
The most important part! Time to type out the message to be handwritten by your scribe. Make sure your message copy is as thoughtful as the medium it is being sent on. Write the message in a template format and pull in the 'drag and drop' magic fields for personalisation. If the words aren't flowing, request message copy templates here.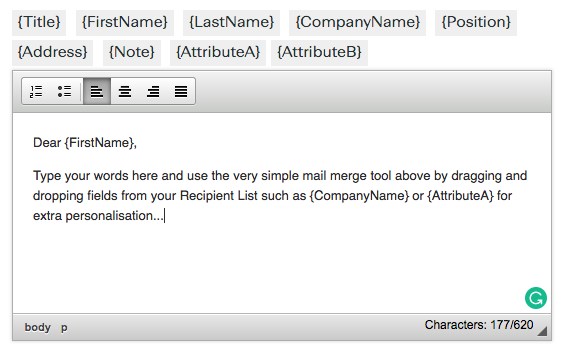 Top tips for writing message copy:
Get a change of scenery, put pen to paper yourself to come up with the messaging before typing it into the message box (it's been scientifically proven to help compose thoughts and ideas!)
If you struggle to get out of that formal funk and want to speak more like an actual human being, simply imagine you are writing to a good friend.
HANDWRITING STYLE
Choose your preferred handwriting style. Our writers are grouped into 3 categories so you can choose the look and feel that best fits your brand.

FINAL EDITS
The penultimate step is a chance to add even more personalisation outside the message template format such as a unique intro sentence or sign off to certain individuals. For example, you met one of the recipients, Harry Potter, at an event last week so want to mention this in your message.

Voila! Press send and between the Inkpact team and the fabulous Scribe Tribe your stationery will be sourced, printed, penned, quality assured and posted without you lifting a finger!